All products featured on SEA OF SOLACE were carefully curated.

When you buy something through our retail links, we may earn a small affiliate commission at no extra cost to you.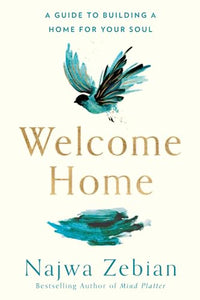 Author: Zebian, Najwa
Number Of Pages: 336
From the celebrated poet, speaker, and educator comes Welcome Home, a powerful blueprint for building a strong foundation of self-worth, belonging, and happiness.
The powerful metaphor of home provides a structure for you to customize your journey to personal transformation as Najwa Zebian shares her own experiences in building a home within herself, and shows you how to construct the following "rooms":
• Self-Love: Learn how to build an individualized self-care routine to reflect your daily needs.
• Forgiveness: Learn how to allow yourself time, reflection, and space to accept and let go of painful events.
• Compassion: Discover the three different types of compassion and learn how you can let people in while maintaining boundaries.
• Clarity: Learn how to remove the walls you put up around your authentic self.
• Surrender: Learn how to lower your defenses and give yourself space to feel and process your emotions.
• The Dream Garden: Learn how to nurture your dreams and create an authentic, original path.
With practical tools, poetry, and prompts for journaling and meditation to lead to self-understanding in each chapter, Zebian shows you how to build each room in your house. Written with her trademark power, candor, and warmth, Welcome Home is an answer to the pain we all experience when we don't feel at peace with ourselves.