All products featured on SEA OF SOLACE were carefully curated.

When you buy something through our retail links, we may earn a small affiliate commission at no extra cost to you.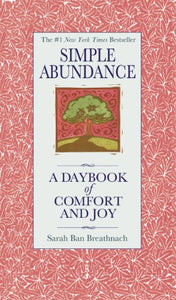 Author: Breathnach, Sarah Ban
Details: #1 NEW YORK TIMES BESTSELLER

Over 7 million copies sold in 30 languages!

Simple Abundance is a book of evocative essays - one for every day of the year - for women who wish to live by their own lights. A woman's spirituality is often separated from her lifestyle. Simple Abundance shows you how your daily life can be an expression of your authentic self ... as you choose the tastiest vegetables from your garden, search for treasures at flea markets, establish a sacred space in your home for meditation, and follow the rhythm of the seasons and the year.

Every day, your own true path will lead you to a happier, more fulfilling, and contented way of life. Embrace its gentle lessons, savor its sublime common sense, and dare to live its passionate truth. The authentic self is the Soul made visible.