All products featured on SEA OF SOLACE were carefully curated.

When you buy something through our retail links, we may earn a small affiliate commission at no extra cost to you.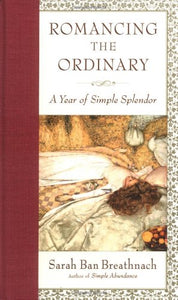 Author: Ban Breathnach, Sarah
In her first major book since Something More, #1 New York Times bestselling author Sarah Ban Breathnach takes readers to a new level of personal fulfillment and spiritual awareness as they learn to rediscover and savor the sensual experience of daily life. Organized as a saunter through the year, Romancing the Ordinary celebrates the spirituality of the senses, seasonally and monthly. Ban Breathnach believes that women are endowed not with five senses but with seven. In addition to rediscovering sight, sound, scent, taste, and touch, readers will come to cherish their sense of "knowing" -- a woman's intuitive sense -- and "wonder," her sense of rapture and reverence. Writing in the style so beloved by her millions of readers, and drawing on myth, literature, film, music, and drama, Ban Breathnach encourages each woman to discover what moves her to tears, makes her blood rush to her head, her heart skip a beat, and her soul sigh. Interwoven with the text are seasonal indulgences intended to restore weary feminine souls -- recipes, rituals, decorating, fashion, and gardening hints. By encouraging her to delight in the often overlooked gifts of every day -- from the aroma of simmering homemade spaghetti sauce to the sensation of freshly laundered linen against bare skin -- Romancing the Ordinary is sure to help every woman fall in love with Life.