All products featured on SEA OF SOLACE were carefully curated.

When you buy something through our retail links, we may earn a small affiliate commission at no extra cost to you.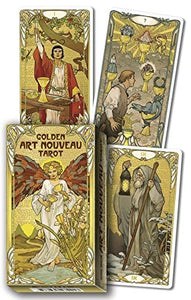 Author: Massaglia, Giulia F.
Brand: Llewellyn Publications
Binding: Cards
Genre: BODY, MIND & SPIRIT
Publisher: Llewellyn Publications
Release Date: 08-11-2019
Details: Product Description The gold-foil details of this outstanding deck perfectly complement the elegant designs and gracefully curved lines of the classic art nouveau style. Artist Giulia F. Massaglia captures the essence of the RWS symbolism and makes it truly sacred with her immaculate illustrations. Whether you're reading for yourself, for friends, or for clients, this deck provides all the insights and wisdom of a traditional tarot with the addition of a stunning visual presentation. These cards add a glorious touch of sparkle and shine to your tarot practice. Boxed deck (2¾ x 4¾) includes a 78-card gold-foil deck and instructional booklet. About the Author Giulia F. Massaglia is an artist based in Italy.
EAN: 9780738763460
Package Dimensions: 4.9 x 2.6 x 1.2 inches
Languages: English