All products featured on SEA OF SOLACE were carefully curated.

When you buy something through our retail links, we may earn a small affiliate commission at no extra cost to you.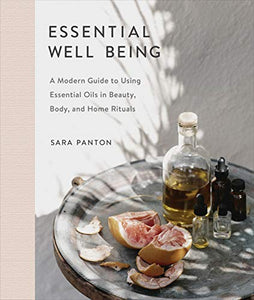 Author: Panton, Sara
Sara Panton, co-founder of the premium essential oil company vitruvi, shares her knowledge of botanicals and wellness practices to help you live more naturally and elevate the simple moments of your day. Essential oils have been used in self-care practices for centuries. These small bottles of potent extracts can help you carve out simple (even secret) moments every day to reconnect with yourself, breathe deeper, sleep better, and restore energy. In this modern guide, you will find more than 100 do-it-yourself essential oil recipes, rituals, and suggestions--most of which take less than 15 minutes--including: Rosemary and Cedarwood Face Toner: a grounding toner for when you are craving the serenity of a hike in the woods. Honey and Lavender Oil-Balancing Face Mask: a face mask that smells as lovely as it sounds. Fig and Eucalyptus Scrub: a decadent yet super-simple body scrub for pampering yourself. Peppermint and Pink Grapefruit Shower Spray: a natural way to keep your shower ultra-fresh. The book guides you through ways to customize your beauty, body, and home routines--turning them into easy yet sophisticated wellness experiences. Learn how to create a custom face oil for your skin type; do a facial lymphatic massage; make a Mediterranean-inspired botanical foot soak; and blend unique essential oil diffuser aromas for your home. Essential Well Being provides all-natural rituals for morning, afternoon, and evening, and shares how to transform the minutes of your busy day into small spa moments that fill your cup back up. Explore your own potential through the simple act of taking time for yourself. About the Author SARA PANTON is the co-founder of vitruvi. Her background in global health, travels around the world, and fascination for how traditional botanicals can be used in modern ways is now the basis for what has become a leading essential oil company. Sara's passion is helping women transform the simple moments of their days into experiences that elevate their well-being. Her hope is always the same: to help women take care of themselves, so they can take on the world. Excerpt. © Reprinted by permission. All rights reserved. We grew up in a small farming community on an island off the west coast of Canada. This idyllic place was a mixture of farms and ocean. Growing up on the beach, my brother Sean and I were two of the few kids in the area, so becoming friends was basically a necessity—play together or alone. We would spend our evenings and weekends building beach forts, collecting berries from farm stands and paddle boarding. Although at the time we didn't fully understand the beautiful simplicity we lived in, we now appreciate how our parents were early adopters of organic produce, non-toxic cleaning products and an overall curiosity about health and well-being. Needless to say, our belief in natural and simple living came from our mom and dad. They were very influential in the way we regard nature and our respect for the natural world. As a family, we would frequently go hiking or camping and spend time outdoors, planting our own vegetables and picking apples with our grandparents. We didn't travel internationally during our childhood, nor were we introduced to business, yet I was always curious about cultures and places around the world, and Sean was always very entrepreneurial. I knew I was interested in wellness and wanted to help people, so I decided pretty early on that I wanted to be a doctor. I felt that a career in medicine would allow me to travel, and I knew that I wanted to practise medicine for people who wouldn't otherwise have access to it. I began working on a degree in Global Health Sciences, and throughout my studies, my grandfather (Papa) would often remind me "to think smart, not hard" and to "keep my options open." I'm very glad I did, because it made me stay curious about the themes, subjects and topics that light me up. In university, I made my first trip abroad with my dad.
Package Dimensions: 9.6 x 8.3 x 1.3 inches
Languages: English