All products featured on SEA OF SOLACE were carefully curated.

When you buy something through our retail links, we may earn a small affiliate commission at no extra cost to you.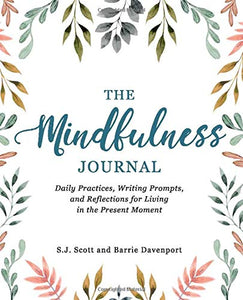 Author: Davenport, Barrie
REDUCE YOUR ANXIETY AND LIVE IN THE PRESENT MOMENT: It's easy to feel worried when you're surrounded by negativity and headlines full of bad news. With The Mindfulness Journal, you can build a stress-reducing habit that makes you appreciate every single day.

UNIQUE, ACTIONABLE PROMPTS: The Mindfulness Journal provides 365 daily writing prompts divided into 52 weekly mindfulness topics. This gives you seven days to fully immerse yourself in each topic. Also the prompts are unique enough so you'll never feel bored while journaling. These prompts are fun, engaging, and will help you gain an appreciation for the world around you.

PLENTY OF WRITING SPACE: Each prompt is on its own separate page, so you'll have lots of room for reflection and space to write down ALL your thoughts. As one user commented: "The writing prompts are very detailed so it is easy to write about specific things that allow for a better dose of self-reflection and awareness."

WRITE AT YOUR OWN PACE: While we suggest journaling once a day, you can spend as much time as you need on each prompt. The Mindfulness Journal is broken down into weekly themes. This means you can skip around and complete the prompts in any order that you choose.

Get Started TODAY with "The Mindfulness Journal"
With "The Mindfulness Journal" you will take that first step toward self-discovery. To get started, scroll to the top of the page and select the buy now button, to purchase your copy today.