All products featured on SEA OF SOLACE were carefully curated.

When you buy something through our retail links, we may earn a small affiliate commission at no extra cost to you.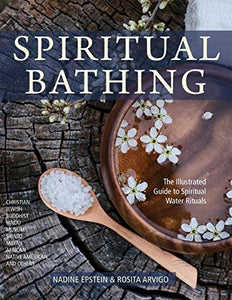 Author: Epstein, Nadine
For centuries, people have used a combination of water, prayer, meditation and herbs to rejuvenate the mind, body and soul. In Spiritual Bathing, Rosita Arvigo and Nadine Epstein explore traditions—many lost or forgotten—that have been intertwined with religion, spirituality and culture since ancient and medieval times. From baptism to mikvahs to charity baths, these traditions can serve as a way to reconnect with nature or God; rejuvenate the mind, body and soul; and help relieve anxiety, insomnia and depression. Encompassing knowledge from 15 world traditions, this beautifully illustrated guide features detailed instructions to create nurturing and restorative spiritual bathing rituals both at home and elsewhere. Review "Spiritual Bathing is a fascinating collection that demonstrates a fundamental unity in spiritual yearning and expression, spanning so much of human history and so many world cultures." —Anita Diamant, author of The Red Tent and many other books, and founder of Mayyim Hayyim, Living Waters Community Mikveh and Education Center in Newton, Massachusetts. About the Author Nadine Epstein is the editor and publisher of Moment Magazine and founder and executive director of the Center for Creative Change. She is also founder of the Daniel Pearl Investigative Journalism Initiative. An award-winning journalist, her work has appeared in Moment, The New York Times, The New York Times Magazine, The Washington Post, Smithsonian, The Christian Science Monitor, Ms. and other publications. She covered politics and news in the Chicago bureau of The New York Times and at The City News Bureau of Chicago, then covered the U.S.-Mexico border while based in Arizona. She also covered rural America for seven years. She is a recipient of a prestigious 1990 Knight-Wallace Fellow at the University of Michigan as well as many grants including the Washington, D.C. Commission on the Arts and the Fund for Investigative Journalism. She taught in the Master's Program in Journalism at the University of Michigan, Ann Arbor. She holds a B.A. and an M.A. in International Relations from the University of Pennsylvania, and was a University Doctoral Fellow at Columbia University. She has co-written three books, contributed to anthology collections and co-written a documentary film, which was shortlisted for an Academy Award. She is also an artist: Her solo photography exhibition, Insides A woman's Shadow, is currently at the Jules Backman Gallery at the Hebrew Union College Museum in New York. She lives in Washington D.C.
Package Dimensions: 11.0 x 8.5 x 0.7 inches
Languages: English