All products featured on SEA OF SOLACE were carefully curated.

When you buy something through our retail links, we may earn a small affiliate commission at no extra cost to you.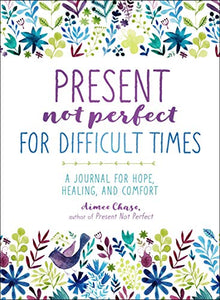 Author: Chase, Aimee
A special journal to help you through grief, fear, and loss.
Present, Not Perfect struck a chord with readers looking for a way to slow down, take a breath, and focus on what really matters.  Present, Not Perfect for Difficult Times is specifically geared toward people struggling, whether it's with loss, grief, anxiety, or other difficult circumstances. 
AIMEE CHASE is a writer and editor with a perfectly imperfect life. She lives in the Boston area with her husband and two spontaneous little boys who remind her to live in the moment. Aimee's books include One Question a Day: A Five Year Journal, and Present, Not Perfect: A Journal for Slowing Down, Letting Go, and Loving Who You Are.